12

SEP 2013
3D Perforated Copper Staircase / Arup
Pushing the limitation of geometry and materials in home design, Arup (in close collaboration with Design Architect STUDIO MISHIN Architectural Bureau's Sergey Mishin and Katya Larina and Technical Architects Daniel Llofriu Pou, Alberto Arguimbau) has created a three dimensional and perforated copper staircase, especially designed as a focal point for the Villa Mallorca project.
© arup
Illumination accentuates the geometry of the perforations of the copper panels with dramatic lighting from above.
© arup
"The detailed design of the complex structure is based on a limited set of panel types and interface geometries to allow for a consistent appearance and an efficient procurement.
© arup
The installation is sequenced in such a way that the structural panels interlock with each other and a delicate substructure to minimize visible connections", explained Jan Wurm, Arup´s Materials Practice Leader for Europe.
© arup
The result is a clad with almost 200m² of composite panel, including treated copper, bonded and structural timber with approximately 12,000 perforations made by a CNC water jet cutter.
© arup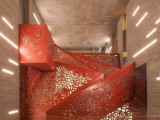 © arup
© arup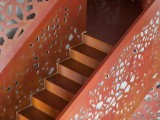 © arup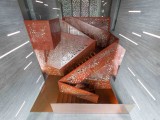 © arup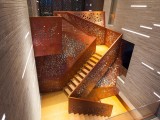 © arup
Comments