24

JUN 2013
House Siglap Road / Aamer Architects
Modern house with the best architecture "Siglap Road" was designed by Aamer Architects.
© AAMER ARCHITECTS
Located in Singapore, is house of the hill, which was amazing, inspired to enjoy the beautiful scenery of the Siglap Hill.
House is divided into three floors, with the master and family room are located on the third floor, which is where the thinking about the best view.
© AAMER ARCHITECTS
Right below it or the floor is the living space and two dining rooms connected with an external veranda / patio that flows to the top, fold up the roof with deep overhangs provide adequate shade and wind channeling through the entire house.
Two resort style 'Cabana' bedrooms are located on the ground level by the pool with a large open / covered terrace for poolside parties.
© AAMER ARCHITECTS
Roof gardens and timber decks Provide added insulation from the sun.
.
© AAMER ARCHITECTS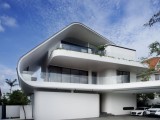 © AAMER ARCHITECTS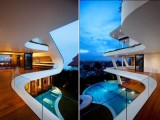 © AAMER ARCHITECTS
© AAMER ARCHITECTS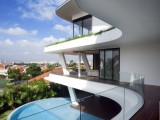 © AAMER ARCHITECTS
Comments