06

SEP 2012
Digital Tracery Fabrication / Lawrence Blough and Aaron White
The ambition of the seminar was to interrogate digital prototyping as a working method and form of research that differs from classical "iconic" models of representation.
©
Working within two parallel forms of inquiry – the design/fabrication of laser cut wood models and the analysis of selective readings – the potentials of contemporary digital modeling was exposed as a speculative practice that embraces iterative making as "design intelligence".
Critical to this method was the scalability of the prototyping process – each consecutively scaled model raises questions about material performance and constructional specificity.
©
Students were asked to independently analyze a particular flowering plant with an emphasis on organizational and geometric characteristics.
From their research, students attempted to trap, or intensify a particular trait(s) of their plant through notation drawing and detail modeling by developing simple modules of assembly and building complexity from the bottom up.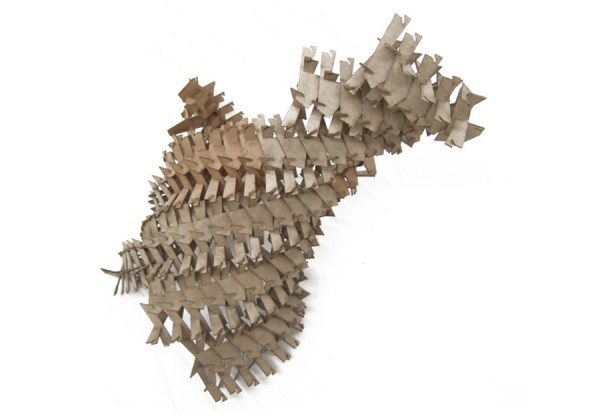 ©
Working in teams, students tested multiple design variations by fabricating ¼"=1'-0" scale jointed lattices and ¼ full scale joint details using a 18"x32" laser cutter.
The intent was to limit the size of the components that form the lattices, so students would have to confront the economies of assembly and structure, while still maintaining the effects of continuity and lightness.
©
The pedagogical heuristic of the model traces a line through research in two ways: 1.
as a tool for conceptual thinking – both the drawing as model and the model as prototype marries the "cognitive-perceptive with the figurative-operative", 2.
©
as a working method to unlock material and structural performance – the scalability of the prototyping process becomes a rehearsal for the realities of one-to-one construction.
The model based approach emphasized the development of part to whole relationships through jointed assemblies and privileged expressive tectonics as a means to confront scale and simulate the exigencies of construction.
©
Although 3D printing has proven itself to be powerful tool to visualize complex form, its use was discouraged because its lack of materiality and its tendency to produce smooth surfaces with no tectonic differentiation.
The laser cutter was the tool of choice because by default, assemblies have to be made of modules.
©
The limitations of the tool also demands that 3D form be geometrically constituted from sheet stock with a restricted size.
Tectonic innovation using off-the-shelf materials was privileged over new material technologies.
©
One project from the seminar was selected for fabrication as a full scale installation to be installed in the gallery at the School of Architecture in November, 2009.
A team of two students have done an independent study over the summer to rationalize the geometry of the analogue model by building a parametric digital model in Rhino Grasshopper.
©
This has allowed the team to refine the geometry globally while maintaining the part to whole jointed relationships of the components.
A ¼ full scale model has been assembled from laser cut pieces to test the structural and construction sequence of the installation before full scale CNC fabrication proceeds in October.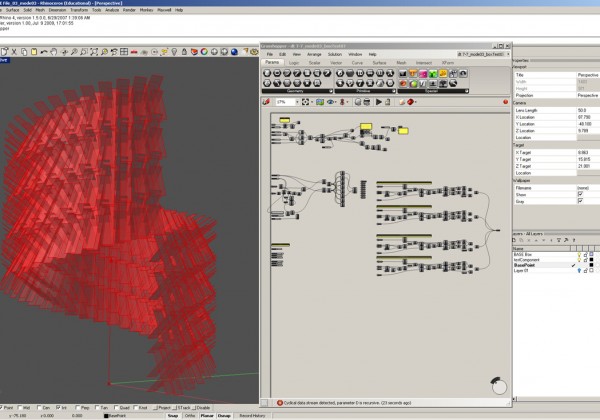 ©
.
©
©
©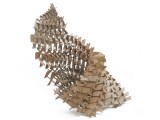 ©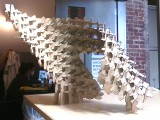 ©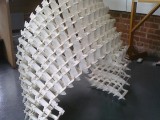 ©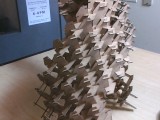 ©
©
©
©
Comments