16

AUG 2012
Video: Fanfare for the Common Man / Tim Bavington
if you have been to The Smith Center, you for sure have seen the amazing sculpture in Symphony Park created by Tim Bavington.
and if you haven't seen it yet it would be a great idea to take the family down there and check it out.
the idea of creating this film began about a year ago when we received word that Tim was going to be commissioned to create this beautiful project for The Smith Center and Las Vegas.
we wanted to follow Tim from concept to completion and let people experience what goes into making a sculpture of this scale.
we made the journey to La Paloma Fine Art Studio in California two times to follow the fabricating process of this steel masterpiece and countless hours at Tim Bavington's studio.
"its amazing that The Smith Center would support this without something like it existing before, there's no example" this is a quote from Tim that sums up the dedication, devotion and vision that Myron Martin and The Smith Center have for creating something different in and for Las Vegas.
next time you are Downtown swing by The Smith Center and check out how pipe dream's can come true.
.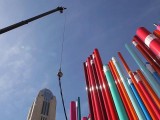 on Vimeo - ©
Comments