02

AUG 2012
Video: Asakusa Culture Tourist Information Center / Kengo Kuma
Kengo Kuma designed this new tourist information center in Asakusa.
Famous for its bright orange Buddhist temple – Senso-ji – the site draws many Japanese tourists as well as visitors from overseas.
Pitched-roof volumes appear to be stacked one atop the other to form this tourism hub overlooking a busy intersection.
Outside, the building form responds to the somewhat chaotic scale and composition of this old neighborhood, whilst program is fit within a sleek interior accented by Kuma's signature timber fins and louvres.
.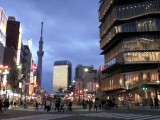 on Vimeo - ©
Comments