20

MAY 2021
Milestone / 3d print house / Houben Van Mierlo
In collaboration with Van Wijnen, Eindhoven University of Technology and the municipality of Eindhoven, among others, the world's first habitable 3D concrete printed homes are being designed and realized in the Bosrijk neighborhood.
© Photo : Bart van Overbeeke
In project 'Milestone' an ensemble of five unique homes is being realized.
3D concrete printing, an innovative industrialized construction technique, is being used here to create special customized houses.
© Photo : Bart van Overbeeke
All the partners are demonstrating their innovative strength in a special way and the Municipality of Eindhoven is confirming once again that it is a special location for the high-tech manufacturing industry.
The area location, cluster 16, is a beautiful open spot between the trees that calls for an interpretation with special iconic buildings, which, as 'statues in a sculpture garden', give a good interpretation of the idea of real rural living.
© Photo : Bart van Overbeeke
The footprint of the houses has been kept very compact so that the surrounding landscape can meander between the building volumes as much as possible.
This results in an image of mainly narrow high houses that strongly refer to the scene of a group of menhirs on a clearing in the middle of the woods, placed in a semi-circle.
© Photo : Bart van Overbeeke
The center of the composition accommodates a common play and meeting area.
Sightlines through and to the surrounding wooded area and the large facade openings of the houses reinforce the relationship between inside and outside as well as the feeling of living in green.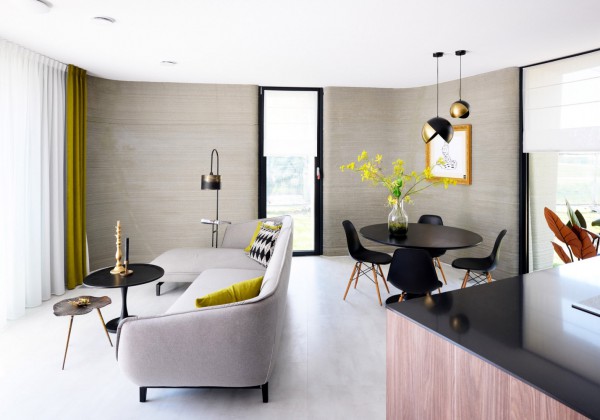 © Photo : Bart van Overbeeke
With a big wink, the most advanced techniques are used to create a group of sculptural 'Flintstone houses' that seem to come straight out of the Stone Age.
The project will be carried out in phases, initially using prefabricated concrete elements, with the ambitious final goal of printing at least the last house on site at once.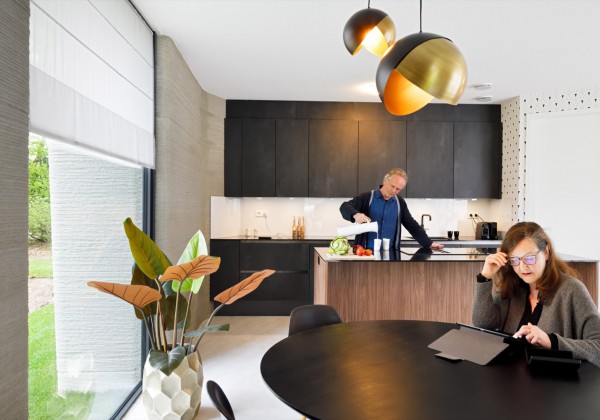 © Photo : Bart van Overbeeke
.
© Photo : Bart van Overbeeke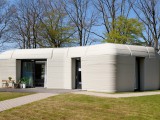 © Photo : Bart van Overbeeke
© Photo : Bart van Overbeeke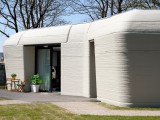 © Photo : Bart van Overbeeke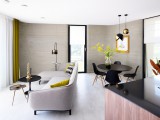 © Photo : Bart van Overbeeke
© Photo : Bart van Overbeeke
Comments