31

AUG 2020
FIRST PRIZE FOR CYCLE AND PEDESTRIAN BRIDGE HEIDELBERG / lava
schlaich bergermann partner, LAVA, and Latz + Partner, have won first prize in an international competition for the design of a new pedestrian and cycle bridge over the Neckar River in Heidelberg.
The design language is elegant, minimalist, restrained.
©
With generously curved lines, the bridge provides a direct, accessible and smooth northsouth connection for cyclists and pedestrians.
The 700m long bridge is a continuous path linking urban developments on both sides of the Neckar.
Its graceful profile has the potential to create a new icon for the city, adding to the further development of Heidelberg into a future-oriented, bicycle-friendly city.
©
Andreas Keil, partner at schlaich bergermann partner, said: "Our design impresses with its monolithic structure and the dissolved supports with an elegant silhouette and appealing long-distance and close-up effects.
The ramps and stairs make the bridge fully accessible to all users.
" Tobias Wallisser, LAVA director, said: "The design cleverly addresses the integration of the bridge into the cityscape, creates open and green spaces along the bridge, accessible entrances and exits, whilst at the same time fulfilling the goal of a comfortable, fast and safe route".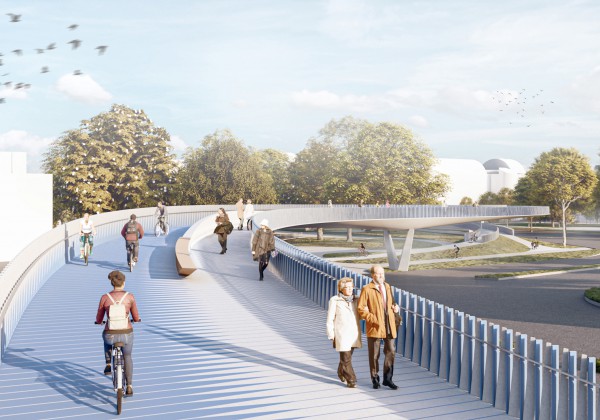 ©
Commissioned by the City of Heidelberg and the International Building Exhibition (IBA) Heidelberg, an international competition saw 14 groups in the first stage and five groups in the second stage.
The jury was impressed by the "large, curved gesture" of the winning design.
The bridge is divided into seven spans of 60m each with a steel superstructure connected to slim, prefabricated supports of ultra-highstrength, fibre-proven concrete.
©
The design goes beyond its functional core task.
The bridge activates, celebrates and promotes the different peculiarities of the various places it connects.
©
As it moves through a sequence of urban spaces, the qualities and contrasts are reinforced in its design.
Above the Neckar, for example, the bridge widens to a seating landscape with viewing balconies directly over the water.
At the same time, the continuous bridge soffit generates airy spaces underneath the structure.
©
Bridge and landscape design together create new and different qualities: using subtle interventions, users are accelerated, slowed down and stimulated to pause, stay and look.
At the same time pedestrian and cycle paths are consistently intersection-free, enabling fast transit as needed.
Adds Andreas Keil: "We understand the inner-city bridge not only as a path across the water, but also as a place with different qualities of stay.
©
For example, an elegant and column-free curved section respects the existing Gneisenau Park, frames and shields it from traffic, creating an enhanced recreational area.
" Adds Wallisser: "It's LAVA's first major bridge project and continues our efforts to make infrastructure of high public value contributing both to liveability and sustainability.
Anything that contributes to the reduction of car traffic and provides pedestrian promenades increases the quality of life.
©
".
©
©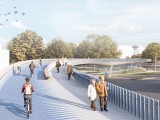 ©
©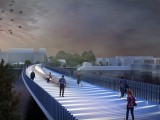 ©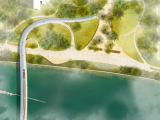 ©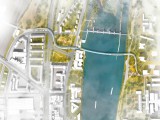 ©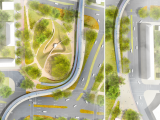 ©
Comments