24

JUL 2019
Hunan Slurp / New Practice Studio
Hunan Province in Southern China is famed for its cuisine, which is deeply rooted in Hunan people's customs and identity.
Drawing on this heritage, Hunan Slurp in New York is named for the everyday meal of Hunan people and the satisfying sound made when eating the traditional warm rice noodle soup.
©
Hunan Slurp is the restaurant of chef and artist Chao Wang who was born in Hengyang in Hunan Province.
Wanting to cure his homesickness through cooking, he conceived of the restaurant and engaged New Practice Studio to design the venue.
"The idea was to create a bright and natural feel in the space for the younger patrons in the East Village," says Nianlai Zhong, founding partner and principal at New Practice Studio.
©
The firm designed a rhythmic timber canopy that wraps around the ceiling and walls and is evocative of the slippery strands of noodles.
"The space is conceived as a place to look into and look out from," says Nianlai.
"A continuous volume is carved out from the storefront into the interior so a direct dialogue is established between the street and the restaurant.
©
" The timber canopy accentuates the long and narrow space to create a tunnel that arcs over the communal dining tables.
Fabricated with laminated wood panels and covered with oak veneers, the canopy has rounded corners that reinforce the geometry of the venue.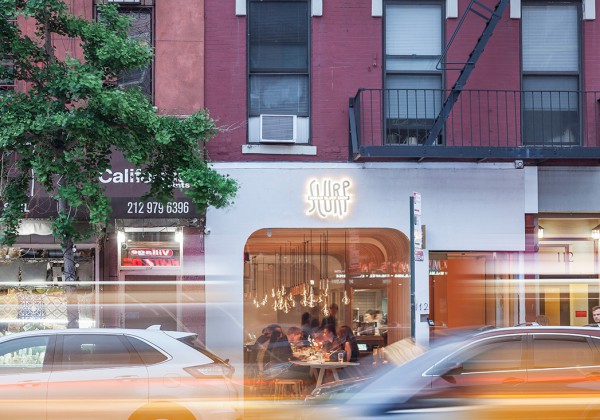 ©
The existing brick wall is visible behind the ribbed timber, and backlighting highlights its texture and adds another dimension to the space.
"The idea for the curved wood screen is on the one hand to create a spatial element that can resemble the food served in the space, and on the other hand to engage with the existing brick walls to create a subtle layering in the space," says Nianlai.
Hand-blown bulbs are suspended over the brass stools and oak-veneer dining tables, which are set with ceramic plates and wooden chopsticks.
©
Cosier dining is in the rear of the restaurant with marble-top tables and a long banquette.
Sleek round mirrors reflect the golden glow of the lights, and diners can see into the kitchen through the glass walls.
Sitting within the ribbed belly of the restaurant, diners are immersed within the noodle-inspired canopy and the satisfying slurp that expresses appreciation to the chef.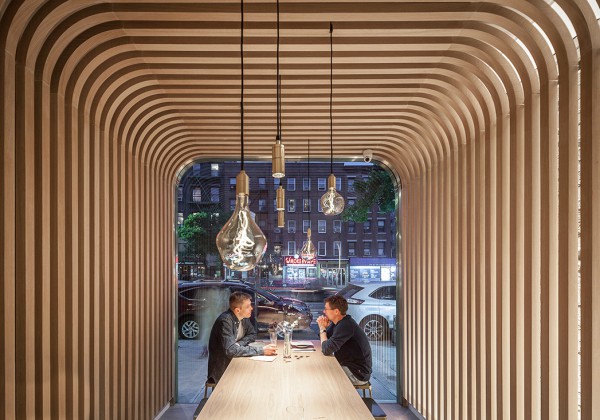 ©
.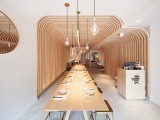 ©
©
©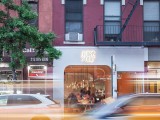 ©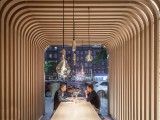 ©
©
Comments