03

JUN 2019
THE ALATO CABINET / Jumphol Socharoentham and Pakawat Vijaykadga
Creative and beautifully made, the Alato Cabinet makes a lasting impression with its striking design that features both refined artistic accents and organic details.
©
Students Jumphol Socharoentham and Pakawat Vijaykadga created this cabinet prototype for their final project in industrial design at the King Mongkut's Institute of Technology Ladkrabang (KMITL) in Bangkok, Thailand.
©
Inspired by the beauty of feathers, the two young designers developed the eye-catching pattern adorning the two doors and completed it using an intricate construction that uses various types of materials weaved to achieve a shingle effect.
Made of solid ash, ash veneer, MDF board, and metal, the Alato Cabinet displays impressive craftsmanship and attention to detail.
©
The paint finish enhances the fish scale pattern and it is applied in different hues to create a gradient effect, starting from unfinished ash veneer, to light gray and cool muted blue.
©
The result is a distinct piece of furniture that would be a focal point in any room.
©
For now, the Alato Cabinet remains just a prototype, but the future certainly looks bright for its creators.
.
©
©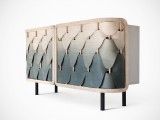 ©
©
©
©
©
Comments