04

JUN 2015
SWELL lamp / SeriesNemo
The organic forms of SWELL imprint a natural character to the plastic material that is the lamp base.
© SeriesNemo
The design makes the material behave (act) as a textile cover adapted to the structural lines that generate volume.
© SeriesNemo
The formal continuity of the wood completes and customizes the object.
© SeriesNemo
.
© SeriesNemo
© SeriesNemo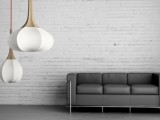 © SeriesNemo
© SeriesNemo
© SeriesNemo
Comments