27

APR 2015
Cellular Morphology Facade / rat[LAB]
London- and Delhi-based design firm and research platform rat[LAB] unveiled their concept for a algorithmically-designed facade system that can adapt to different climatic conditions.
© rat[LAB]
© rat[LAB]
As a demonstration, the team has digitally applied the Cellular Morphology Façade, consisting of 917 unique cells made of 5,392 non-identical surfaces, to an existing building in New Delhi.
© rat[LAB]
A large-scale prototype of the design has been exhibited at at Alliance Francaise de Delhi as a part of '20 under 35' Exhibition in February 2015.
© rat[LAB]
© rat[LAB]
.
© rat[LAB]
© rat[LAB]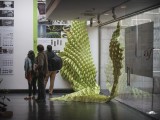 © rat[LAB]
© rat[LAB]
© rat[LAB]
© rat[LAB]
© rat[LAB]
Comments