22

SEP 2014
The endless table / Clive Wilkinson Architects
"At The Barbarian Group, we believe in the power of ideas to provoke a reaction.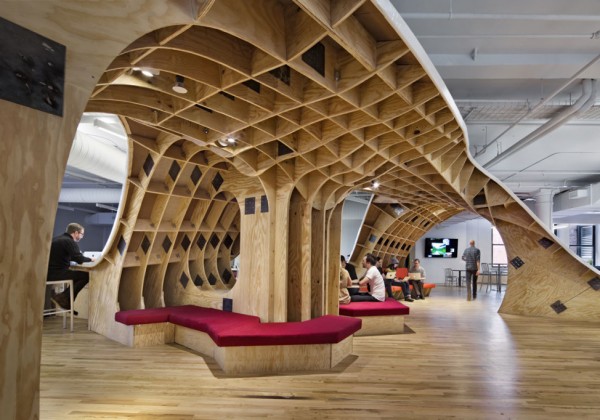 © Clive Wilkinson Architects
So when challenged with our own brief – to keep the Barbarian tribe happy and inspired everyday – we turned to Clive Wilkinson, an architect who shares our passion for interesting ideas in a world pre-disposed to boring sameness".
The architect responded promptly to the request to create a collaborative and creative environment with a long work surface, that to call it a table is a gross understatement.
© Clive Wilkinson Architects
"A desk that we could all share, literally – 4,400 square feet (409 square meters, 870 plywood panels) of undulating, unbroken awesomeness to keep people and ideas flowing".
© Clive Wilkinson Architects
A versatile "endless table" for all employees and collaborators (125 to 175 people) in the New York office of the digitally-centred creative agency.
"The table surface is resin coated and finished like a surfboard, with a plywood substructure that lifts the table over circulation aisles and shelters informal meeting spaces".
© Clive Wilkinson Architects
Relying on a limited budget, the architects adapted an existing space completely freeing the central area.
The structure of the table is made of plywood and seems to rise from the oak floor to create curves and arches that form shelves, meetings rooms, and individual work nooks.
© Clive Wilkinson Architects
The project has been nominated for the 2014 World Interior of the Year Award, which rewards the most interesting projects of the last 12 months.
© Clive Wilkinson Architects
The winner will be announced in Singapore in October.
.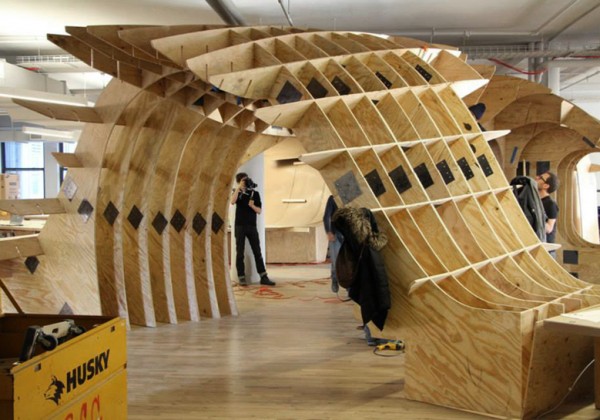 © Clive Wilkinson Architects
© Clive Wilkinson Architects
© Clive Wilkinson Architects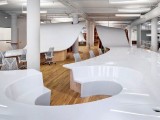 © Clive Wilkinson Architects
© Clive Wilkinson Architects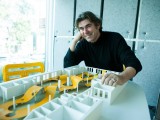 © Clive Wilkinson Architects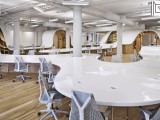 © Clive Wilkinson Architects
© Clive Wilkinson Architects
Comments