25

MAR 2014
Sass & Bide Flagship / Akin Creative
The white 279m2 Soho New York flagship of Australian fashion brand Sass & Bide looks like a gallery overtaking nature or nature reclaiming an art space.
© Akin Creative
'The store represents the juxtaposition of nature and the built form, and the ability to challenge retail conventions,' says Australian Kelvin Ho, who has already designed 20 Sass & Bide shops since launching his architecture and interior design agency, Akin Creative in 2005.
Ho built a 1:25 site model and then, using modeling clay, cardboard and steel wire from his New York hotel room, tested designs.
© Akin Creative
Later he used 3D modeling software and CAD.
'New York City presented an opportunity to be more adventurous,' he says.
© Akin Creative
After one of the clients collected weathered organic debris and driftwood, they decided to scale it up to represent it in the space.
The fixtures, fitting rooms and use of white link to the branding, but the Soho location also echoes a gallery and the space's history as a carpentry shop.
© Akin Creative
To take advantage of these connotations, Ho selectively exposed and concealed existing surfaces and remnants of previous fit outs.
The original timber floor, pressed metal ceiling and pipe work were retained and exposed.
© Akin Creative
After many meetings with local set builders, artists and sculptors who suggested sourcing real trees and using plaster moulds or fiberglass, Brooklyn-based The Guild sculpted the five tree sculptures from steel and fiberglass, sheathed in resin-dipped fabric.
The walls were then pre-braced to allow for mechanical fixings, and finished seamlessly.
© Akin Creative
.
© Akin Creative
© Akin Creative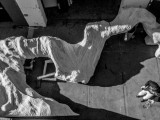 © Akin Creative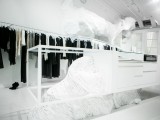 © Akin Creative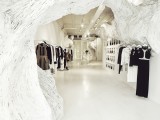 © Akin Creative
© Akin Creative
Comments