20

JUL 2012
'Hybrid Holism' Haute Couture AW2012/13 / Iris Van Herpen
Iris Van Herpen graduated from the Artez Institute of Arts in Arnhem Netherlands, in 2006.
She began her career as an intern with Alexander McQueen, before launching her eponymous brand in 2007.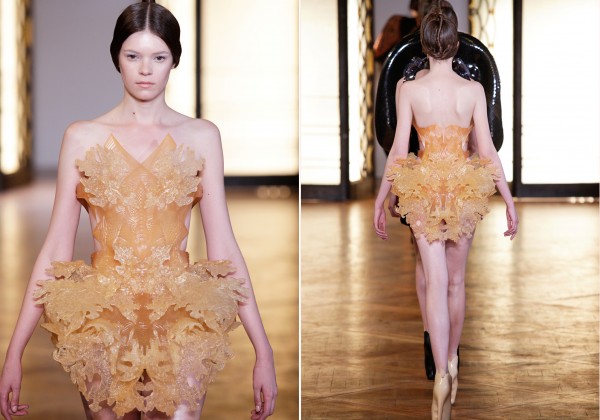 © Iris Van Herpen
Her unique and 'avant gardiste' sense of style has drawn attention from the most sought out publications in the industry.
In addition to all the covers Iris has landed, Iris' recognition reached its climax in 2011 when she became a member of the exclusive French Trade Association of Haute Couture (Chambre Syndical de la Haute Couture).
She developed her personal signature and style by focusing on craftsmanships involving a high level of handwork and demiurgic techniques.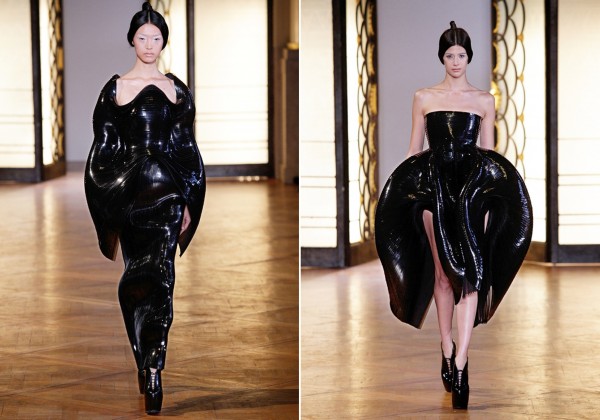 © Iris Van Herpen
Her style combines creative inspirations in design with innovative constituents.
Iris uses materials like polyamide, metal-­‐gauze, motor-­‐chains, synthetic snake-­‐skin, leathers, acrylic and synthetic boat-­‐yarns in which the results have an astonishing visual impact.
Iris considers fashion as a form of self-­‐expression and her research is applied to the possibilities of fashions future.
© Iris Van Herpen
Each of her outfits conducts a singular narration that explores and defines her state of mind.
This season, Iris' inspiration is yet another scientific experiment; this time her inspiration is drawn from a project lead by architect Philip Beesley called Holozolic Ground.
His almost living sculptures and environments suggest that a future city could operate as a living being in which Holozolic Ground offers a vision for a new generation of responsive architecture.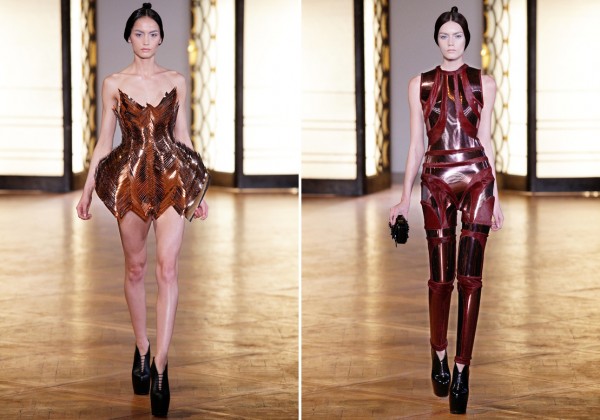 © Iris Van Herpen
Beesley collaborates with people from many different disciplines including Rachel Armstrong, an experimental chemist who works with 'living technology' such as Synthetic Biology – the engineering for living systems.
Armstrong explores metabolic materials to connect human creations, like architecture, with natural systems.
Her innovative work uses concepts such as "living buildings" and "self-­‐repairing architecture"; architecture that is self-­‐ sustainable and reacts to its changing environment.
© Iris Van Herpen
Iris see's these possibilities of living technology as a future where design, art, architecture and even fashion will be radically changed: they will not constantly be newly made and after discarded, but they will become human creations that are partly alive and therefore able to change and able to improve constantly.
This future vision is a radical change for what design can be.
It has inspired Iris Van Herpen's 'Hybrid-­‐Holism' collection that is highly complex and incredibly diverse in terms of shape, structure and materials.
The materials Iris applied to this collection are: mirrored copper sheeting, metallic coated stripes, UV-­‐curable Polymer, silicone lace, Swarovski crystals, acrylic transparent sheets and Ecco leather.
Iris also introduced a technique referred to as 'Mammoth Stereo lithography' which refers to a method involving 3D printing.
This 3Dprinted process is built slice by slice from bottom to top, in a vessel of polymer that hardens when struck by a laser beam.
The colors of this collection are: black, dark red, dark blue, metallic aubergine and transparent amber.
Iris' Hybrid-­‐Holism collection was produced in collaboration with architect Julia Koerner for the 3D printed dress, Heaven Tanudiredja for the clutches, United Nude for the shoes and Irene Bussemaker for the mask.
The collection is in partnership with 3D print company Materialise and Swarovski.
©
.
© Iris Van Herpen
© Iris Van Herpen
© Iris Van Herpen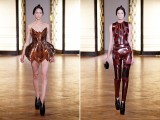 © Iris Van Herpen
© Iris Van Herpen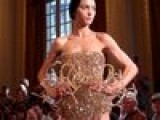 on Vimeo - ©
on Youtube - ©
©
Comments