10

APR 2012
Zaanstad City Hall Exterior / Soeters Van Eldonk Architecten
The new city centre around the Zaanstad train station is part of the city government's plans to improve the economic and social structure of the city.
As traditional industrial activity has dried up, unemployment is running high and young people are leaving.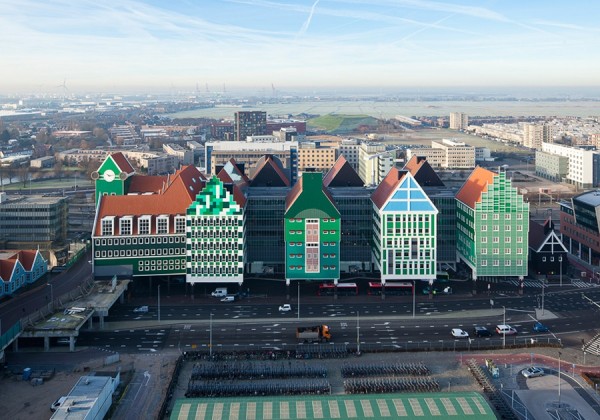 © OETERS VAN ELDONK ARCHITECTEN
The majority of the workforce works outside the city.
Another problem is that Zaanstad is not actually a city but a loose collection of villages, each with its own identity.
© OETERS VAN ELDONK ARCHITECTEN
The city government wants to stimulate new forms of industry and employment, but also better housing, educational opportunities and cultural amenities, so that people will have a reason to stay in the city.
The master plan is a re-interpretation of the history of how Zaanstad came into existence.
Whereas the Zaan River used to be the artery of the Zaandam area's economy and created a cohesion among the villages of the Zaandam area, the provincial highway and the railway have now taken over this role.
© OETERS VAN ELDONK ARCHITECTEN
Just as the construction of a bridge over the Zaan once created an urban centre, a new connecting bridge for cyclists and pedestrians is now being built over the railway line and the provincial highway, creating a direct link between the western residential and school area and the city centre.
Alongside and around this bridge will come a city hall, a train station, a library, a fitness centre, many homes, a hotel and shops.
© OETERS VAN ELDONK ARCHITECTEN
The bridge has been designed so that the public space naturally flows over the highway and the railway line as a gradually rising street extending from the Gedempte Gracht, which will be re-excavated.
The water in this canal will flow along up onto the bridge, so that pedestrians will continue to feel that they are walking along a canal.
The entire area around the Gedempte Gracht is included in the plan.
© OETERS VAN ELDONK ARCHITECTEN
Every effort is being made to make the city centre attractive here as well, including positioning building with small-scale façade around existing separate buildings with long walls and breaking up long sightlines.
New perspectives will be constantly created with bends in the street façades and by narrowing and widening streets.
Besides the improvement of the urban cohesion and the public space, the connection to the 'genius loci' of Zaanstad is an essential theme of the master plan.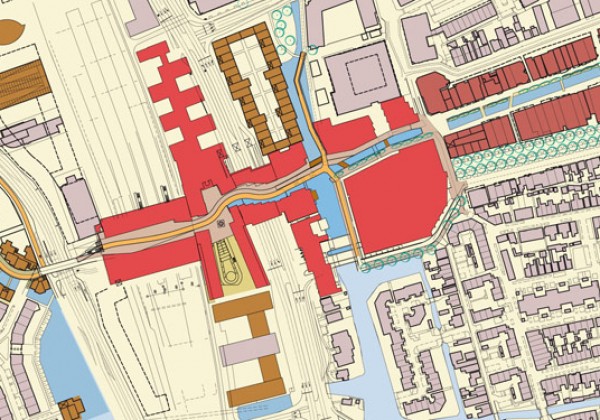 © OETERS VAN ELDONK ARCHITECTEN
The new buildings, in terms of style and colour, will fit in with typical Zaandam timber construction.
Many new buildings – large and small – will be given angled roofs and gables, as well as green-coloured façades with white cornices and white window frames.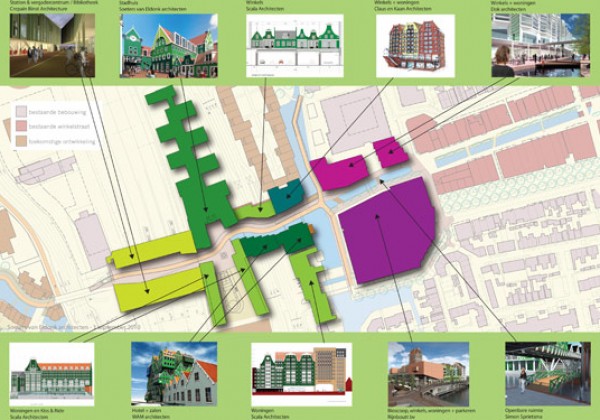 © OETERS VAN ELDONK ARCHITECTEN
.
© OETERS VAN ELDONK ARCHITECTEN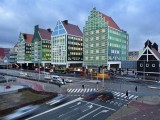 © OETERS VAN ELDONK ARCHITECTEN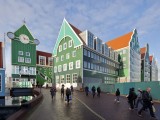 © OETERS VAN ELDONK ARCHITECTEN
© OETERS VAN ELDONK ARCHITECTEN
© OETERS VAN ELDONK ARCHITECTEN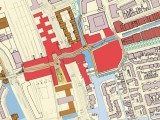 © OETERS VAN ELDONK ARCHITECTEN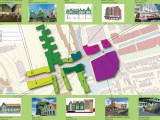 © OETERS VAN ELDONK ARCHITECTEN
Comments