17

OCT 2014
3D printed model of San Francisco - making of / steelblue
Behind the scenes 3D printed model of San Francisco: Autodesk and Steelblue have partnered to create this connex 500 printed 3d model of a portion of San Francisco.
The model was created to aid real-estate developer Tishman Speyer in telling the story of urban development in the rapidly changing SOMA neighborhood.
It can help with urban planning and building construction decisions that are better understood with the kind of physicality that only a real-world 3D replica offers compared to digital images or digital models.
Special thanks to Josh Rauch and Yuliya Grebyonkina.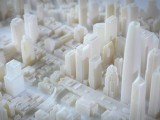 on Vimeo - ©
Comments