15

FEB 2014
"Art-Palace" / TOTEMENT/PAPER
The main task of this project, to our opinion, is creation of a new city contexture resolving a visual conflict between the image of modern European city (with the "Izmailovo" hotel complex constituting a part of it) a new growth (rather interesting to the public and a brand identity of the area) that does not blend in the city situation where original historical and cultural monuments are less sizable and more chamber, rather than the grandiose historical stylization.
© TOTEMENT/PAPER
In that vein we have specified, that the new building should come to the new modern fore, change perception of the Kremlin scale against the mass of newly built; the Kremlin silhouette should be read there and create the back burner.
© TOTEMENT/PAPER
Character and decor of the multi-purpose business complex of crafts, with its entire up-to-dateness, should support the Kremlin traditional and cultural object-matter.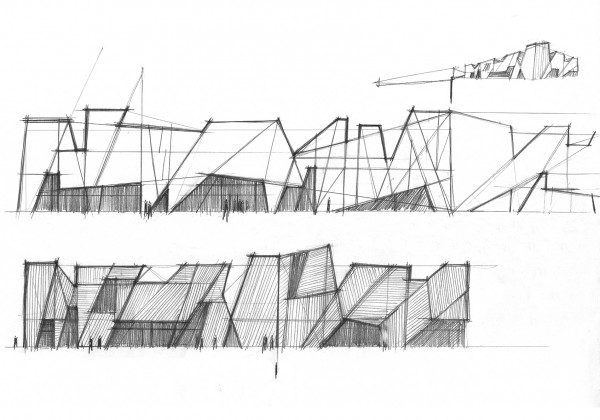 © TOTEMENT/PAPER
As can be seen from the above, we plan to include the Kremlin in the formation of a new town-planning situation.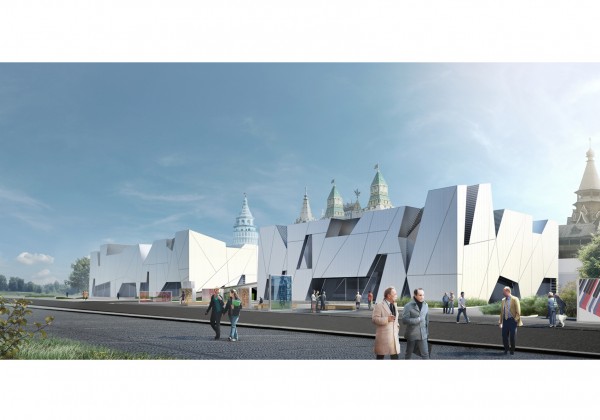 © TOTEMENT/PAPER
The alternate lay-out is an attempt to connect two sites-antagonists, located opposite one another - the Kremlin and the said hotel complex.
© TOTEMENT/PAPER
Arresting have published outline of the Kremlin turned out to be an instrument of stereotopographic entrenchment of the exhibition centre in the elementary "modernist boxes" of buildings.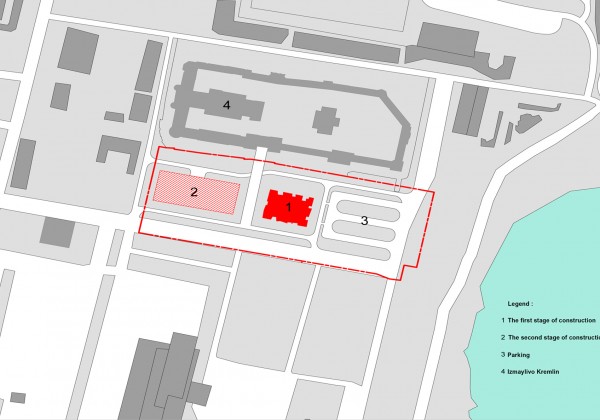 © TOTEMENT/PAPER
The lower level of this entrenchment would be transparent and accessible to the visitors (as if the Kremlin stepped down to the human level, with a new scale view).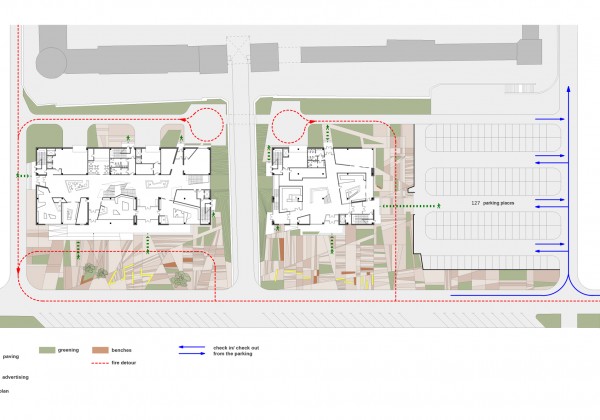 © TOTEMENT/PAPER
This option has several formal solutions, moving from a simple to the more complicated geometry of facades, in attempt to agglomerate the complex of three buildings, cultivating an image of continuity.
© TOTEMENT/PAPER
Light boxes ingrained in the general plan drawing will be used as advertising surfaces and the lower level of illumination for the public areas; the lightweight structure buffering the open parking from the pedestrians will be used as the advertising surfaces too.
© TOTEMENT/PAPER
.
© TOTEMENT/PAPER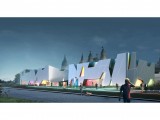 © TOTEMENT/PAPER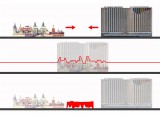 © TOTEMENT/PAPER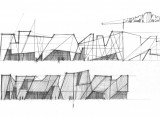 © TOTEMENT/PAPER
© TOTEMENT/PAPER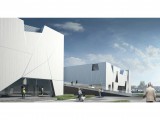 © TOTEMENT/PAPER
© TOTEMENT/PAPER
© TOTEMENT/PAPER
© TOTEMENT/PAPER
© TOTEMENT/PAPER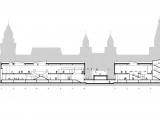 © TOTEMENT/PAPER
Comments